Online store
Featured Item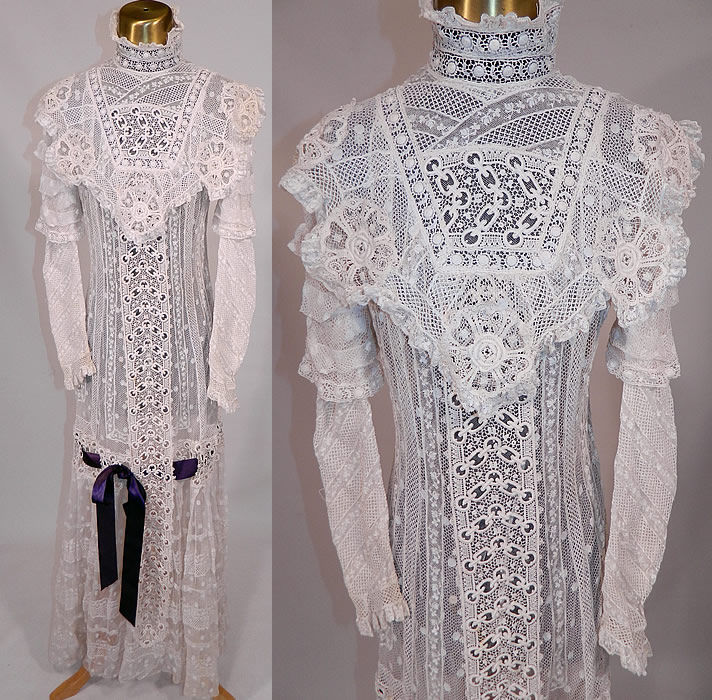 Edwardian Belle Epoque White Mixed Lace Purple Ribbon Skirt Wedding Gown Dress
This exquisite Edwardian era Belle Epoque antique white mixed lace wedding gown dress dates from 1905. It is made of a white net, mixed lace fabric, with appliques and a purple ribbon woven around the skirt tied in a bow on front. This lovely lace dress is a long floor length, with a high neck lace collar, layered yoke top, long sleeves, a full bottom skirt, hook closures down the back and is sheer, lined in a net fabric. The dress measures 57 inches long, with 40 inch hips, a 30 inch waist, 36 inch bust, 13 inch back and 24 inch long sleeves. It is in good condition, clean condition with only a some tiny holes in the net and a few faint small age spot stains which are hardly noticeable. This is truly an exceptional piece of antique textile lace art which could be worn as a wedding gown!

More photos & further information.
We welcome you to our website. We are working hard to bring you more fine vintage fashions and accessories for sale online. Thank you for visiting our website. Please come back and visit us soon. We add new items each week. Feel free to contact us with questions about our items and any items you might want to sell.
Our newly listed items that are updated weekly.

Our weekly auction items listed on ebay.

More information on how to place an order with us.

Learn about us and where to find our merchandise.
Send us an email.

See some of our favorite links and exchange links with us.
When items are sold out they will be marked with a

When items are on hold they will be marked with an

Site Map
Your short cut to our shop
Vintage Fashion Antique Clothing
©1999-2014 1860-1960